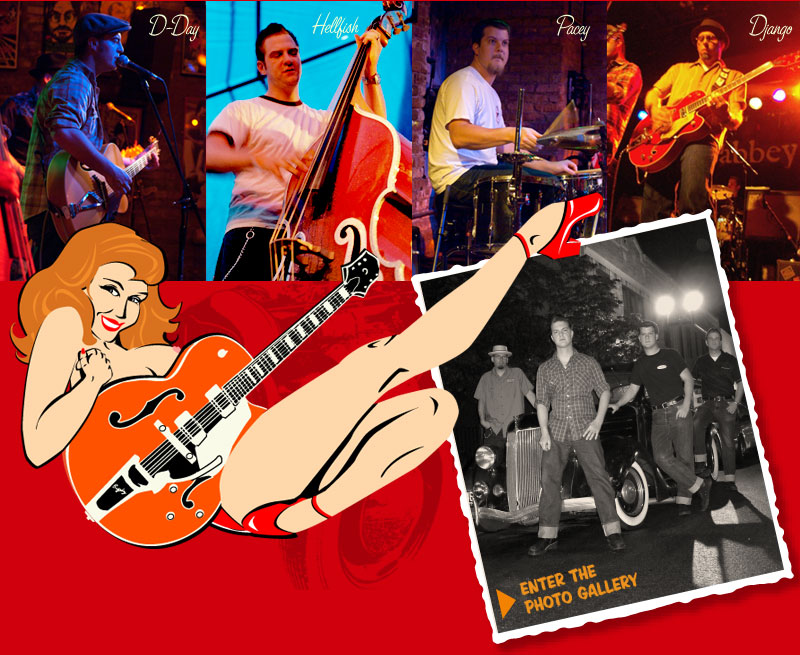 It has been said that all rockabilly music sounds the same, but The Hot Rod Hucksters have been playing truly unique music since 2003. The band is comprised of four hard working guys from Chicago who call to mind an unholy amalgamation of Eddie Cochran, Johnny Burnette, The Cramps, and sometimes even the Stray Cats. Neo-Rockabilly, or whatever you want to label it, the music speaks for itself.
The band's loyal fans have seen them play with hard rocking psychobilly bands like The Quakes, Rocket 350 (Atlanta) and Big John Bates and the Voodoo Dollz (Vancouver), and traditional rock-a-billy bands like The Hi-Qs (Detroit), Cave Catt Sammy (Texas), The Riptones (Chicago), The Reverend Horton Heat, Lee Rocker (of the Stray Cats), and Robert Gordon And The Gang They Couldn't Hang (featuring Chris Spedding of Roxy Music, Glen Matlock of the Sex Pistols and Slim Jim Phantom of the Stray Cats) and The Brian Setzer Rockabilly Riot!
In February 2005, the Hot Rod Hucksters released their seven song EP "Four Deuces and 3 Gears," a title that references their passion for hot rods (all of the boys have at least two). The CD includes four original songs and three covers, and it reflects the band's diverse influences from blues, classic and alternative country, surf, and of course, rockabilly and psychobilly. Their second disc released late in 2007, "Beer, Songs, and Mediocre Broads" features 12 songs that are sure to have you tapping your feet, spinning a wrench and dancing with your favorite gal.
In 2010, they made a pilgrimage to Sun Studios in Memphis to record their latest cd, Party at Sam's Place.
Look for them around Chicago, or at the Big C Jamboree monthly rockabilly night at Martyrs.